Maui Whale Watching Tours are a great way to explore Maui Hawaii. By booking your Maui
Whale Watching Tour with Maui Tours, you can save big on your vacation!
MAUI TOURS
MAUI WHALE WATCHING TOURS
SNORKELING TOURS * WHALE WATCHING * HELICOPTER TOURS
MAUI ISLAND TOURS * HALEAKALA TOURS * LUAUS
HIKING TOURS * SUNSET CRUISES * SCUBA DIVING
Find the best Maui Whale Watching Tours on Maui at Maui Tours. We offer the best Maui Whale Watching Tours on Maui through our Maui Whale Watching Tour Operators. See the humpback whales calving and breaching, what a magical experience!
MAUI WHALE WATCHING TOURS

Maui Attractions
Maui Bike Tours
Maui Caving Tours
Maui Excursions
Maui Family Activities
Maui Fishing Tours
Maui Hana Tours
Maui Helicopter Tours
Maui Hiking Tours
Maui Horseback Riding Tours
Maui Kayaking Tours
Maui Luaus
Maui Magic Shows
Maui Haleakala Tours
Maui Parasailing
Maui Scuba Diving
Maui Snorkeling Tours
Maui Sportfishing Tours
Maui Submarine Tours
Maui Sunset Cruises
Maui Surfing Lessons
Maui Train Tours
Maui Waterfall Tours
Maui Whale Watching Tours
More Maui Tours
Maui Tours Home

MAUI RESOURCES

Hawaii Message Board
Maui, Hawaii
Maui Books
Maui Scuba Diving
Hawaii Underwater
More Maui Tours
Maui Discounts

MAUI WHALE WATCHING TOURS
Visiting Maui from November thru April virtually guarantees humpback whale sightings, often from shore! Many lucky travellers can see humpbacks breaching right off the beach and putting on a real show. Many times, when on a Maui whale watching tour, several whales may frolick in the water at a time. In February, the best month for whale watching in Maui, hundreds of whales group offshore, even in Lahaina Harbor, and you can hardly walk around town without seeing breaching whales.

The reason for the abundance of whales during this time of year is that they come from all over the world to Maui each winter to calve. This also means that you have a really good chance to see some baby whales too! The Maui whale watching tours below are run by top-notch tour operators here in Maui, and will let you share in the excitement of seeing live humpback whales playing in the water near your boat.
Which of the following Maui whale watching tours are you interested in?
Click on the appropriate Maui tour below for more information:

Save up to 50% off on Hawaii Dining, Entertainment, Hotels, and Attractions with the Hawaii Entertainment Book!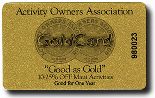 Save up to 25% off Maui Dining, Activities, and Attractions with the AOA Gold Card


Maui, Oahu, Kauai, Molokai, Lanai, and the Big Island!