Maui Scuba Diving Tours are a great way to explore Maui Hawaii. By booking your Maui
Scuba Diving Tour with Maui Tours, you can save big on your vacation!
MAUI TOURS
* MAUI SCUBA DIVING * MAUI SCUBA DIVING TOURS *
SNORKELING TOURS * WHALE WATCHING * HELICOPTER TOURS
MAUI ISLAND TOURS * HALEAKALA TOURS * LUAUS
HIKING TOURS * SUNSET CRUISES * SCUBA DIVING
Find the best Maui Scuba Diving Tours on Maui at Maui Tours. We offer the best Molokini Scuba Diving Tours on Maui through our Maui Scuba Diving Dive Shops.
MAUI SCUBA DIVING TOURS
MAUI SCUBA DIVING

Maui Attractions
Maui Bike Tours
Maui Caving Tours
Maui Excursions
Maui Family Activities
Maui Fishing Tours
Maui Hana Tours
Maui Helicopter Tours
Maui Hiking Tours
Maui Horseback Riding Tours
Maui Kayaking Tours
Maui Luaus
Maui Magic Shows
Maui Haleakala Tours
Maui Parasailing
Maui Scuba Diving
Maui Snorkeling Tours
Maui Sportfishing Tours
Maui Submarine Tours
Maui Sunset Cruises
Maui Surfing Lessons
Maui Train Tours
Maui Waterfall Tours
Maui Whale Watching Tours
More Maui Tours
Maui Tours Home

MAUI RESOURCES

Hawaii Message Board
Maui, Hawaii
Maui Books
Maui Scuba Diving
Hawaii Underwater
More Maui Tours
Maui Discounts



Maui, Oahu, Kauai, Molokai, Lanai, and the Big Island!
MAUI SCUBA DIVING TOURS
Maui scuba diving is some of the best in the world, let alone Hawaii. You can see a dazzling display of fish and the underwater ecosystem, including sea turtles, manta rays, dolphins, moray eels, and if you're really lucky, even a humpback whale!

We offer three Maui scuba diving tours with three of the most respected Maui dive shops. Mike Severns has even written a guide book! If you're a certified scuba diver, these tours are for you!

If you think Molokini snorkeling is a blast, wait until you try the diving!
What Maui scuba diving tours are you interested in?
Click on the appropriate Maui Tour below:
Extended Horizons Maui Scuba Diving
Extended Horizons has been serving Maui visitors and residents since 1983. Join them on a Maui Scuba Diving excursion you'll never forget!

Mike Severns Maui Scuba Diving
Maui's waters offer some of the most amazing SCUBA diving in the world! Enjoy an educational, personalized dive with the experts at Mike Severns Diving.

Trilogy Maui Scuba Diving
Enjoy an unforgettable Maui scuba diving adventure with Trilogy. Maui dive locations include a day trip to Lanai and a twilight and night dive to Molokini.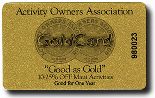 Save up to 25% off Maui Dining, Activities, and Attractions with the AOA Gold Card

Save up to 50% off on Hawaii Dining, Entertainment, Hotels, and Attractions with the Hawaii Entertainment Book!