Maui Fishing Tours are a great way to see Hana Maui Hawaii. By booking your Maui Sportfishing Tour with Maui Tours, you can save big on your vacation!
MAUI TOURS
* MAUI FISHING TOURS * MAUI SPORTFISHING TOURS *
SNORKELING TOURS * WHALE WATCHING * HELICOPTER TOURS
MAUI ISLAND TOURS * HALEAKALA TOURS * LUAUS
HIKING TOURS * SUNSET CRUISES * SCUBA DIVING
Find the best Maui Sportfishing Tours on Maui at Maui Tours. We offer the best Hana Tours on Maui through our Maui Fishing Tour Operators. Reel in the big one this vacation, whether it's a Marlin, Tuna, or Swordfish!
MAUI FISHING TOURS
MAUI SPORTFISHING TOURS

Maui Attractions
Maui Bike Tours
Maui Caving Tours
Maui Excursions
Maui Family Activities
Maui Fishing Tours
Maui Hana Tours
Maui Helicopter Tours
Maui Hiking Tours
Maui Horseback Riding Tours
Maui Kayaking Tours
Maui Luaus
Maui Magic Shows
Maui Haleakala Tours
Maui Parasailing
Maui Scuba Diving
Maui Snorkeling Tours
Maui Sportfishing Tours
Maui Submarine Tours
Maui Sunset Cruises
Maui Surfing Lessons
Maui Train Tours
Maui Waterfall Tours
Maui Whale Watching Tours
More Maui Tours
Maui Tours Home

MAUI RESOURCES

Hawaii Message Board
Maui, Hawaii
Maui Books
Maui Scuba Diving
Hawaii Underwater
More Maui Tours
Maui Discounts

MAUI FISHING TOURS
MAUI SPORTFISHING TOURS
The fishing around Maui ranges from very good to excellent. Most of the Maui sportfishing boats are berthed at Lahaina Harbor, while others are at Maalaea Harbor. The best times of the year for marlin fishing are generally July thru September and January thru March (when the generally larger females arrive). August is the optimum month. Rough seas can keep boats in for a few days during December and early January, but by February all are generally out.

We offer the best Maui Fishing Tours that you'll find on the web. We use only the most reputable and professional guides, and we offer big savings over other booking agencies. Your Maui sportfishing experience is bound to be a good one, as humpback whales breach off the bow of your boat, and dolphins lead your Maui fishing boat out to sea.
What of the Maui Fishing Tours are you interested in?
Click on the appropriate Maui Sportfishing tour below:
Ho'okela Sportfishing
Enjoy Maui sportfishing at its best as Capt. Kim and the crew of the Ho'okela put two generations worth of experience to work for you!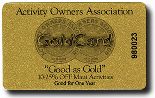 Save up to 25% off Maui Dining, Activities, and Attractions with the AOA Gold Card

Save up to 50% off on Hawaii Dining, Entertainment, Hotels, and Attractions with the Hawaii Entertainment Book!